Een mooie en schone kamer, met een lekkere douche en/of bad…. Leuk uitzicht ook altijd leuk….
Maar wat nu als je eens wat anders wilt…. niet het gewone, saaie doorsnee hotel (hoe luxe ook) maar iets speciaals!?
Wij vonden wat leuke adresjes voor jullie ☺

1: Costa Verde hotel, Quepos, Costa Rica

Ben je gek van vliegtuigen dan vind je dit hotel vast heel gaaf!
Dit hotel ligt aan de kust in het regenwoud en heeft 2 prachtige suites in een Boeing 727 uit 1965.

2: Hotel de Glace in Canada
Hoe kouder hoe liever? Dan wil je vast overnachten in dit ijshotel… het is namelijk helemaal gemaakt van ijs. Het wordt elke winter opnieuw opgebouwd dus hetzelfde is het nooit! Je kunt erheen van eind januari t/m eind maart, boeken maar!
3: The Can Sleep – Skanderborgmeer, Denemarken
Bier en festivalliefhebber? Dan zit je hier in Denemarken goed… je slaapt er in een bierblik(!)
van 3.50 hoog, met een diameter van 2.20…. stoelen, tafel en spiegel, kledingdroger, een bed natuurlijk en een minibar met bier uiteraard! Let's party!!
 4: De Hamster Villa – Nantes, Frankrijk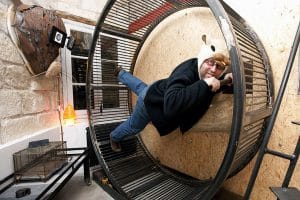 Want wie wil er nu geen hamster zijn en…; graan eten, slapen op een bed van stro… rennen in een gigantisch rad!!???
5: Japanse Capsule Hotel – Japan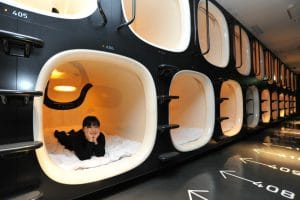 Beetje claustrofobisch… dan raden we je dit hotel niet aan. Je slaapt in een capsule van 2 meter breed, 1 meter lang en 1 meter hoog…. inclusief tv!
  6: Vuurtoren van Harlingen – Harlingen, Nederland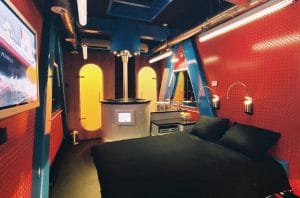 Geen tijd of geld voor een verre reis of lange vakantie, maar er toch even gezellig tussenuit? Dat kan in Harlingen! Je slaapt hier in een in een vuurtoren met uitkijk op de haven en zee van Harlingen. Klein maar wel romantisch… 's Ochtends brengt de vuurtorenwachter jullie ontbijtmand met heerlijke broodjes.
Staan leuk ook op je bucketlist!! Slaap lekker! ☺