Elk jaar is ie er weer…. de derde maandag van januari; blue monday…. Dit blijkt de deprimerende dag van het jaar te zijn. Nu hebben wij daar helemaal geen zin in want waarom zouden we toch!!?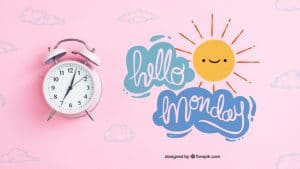 Plan naast school of werk vandaag ook zeker iets leuks!
Waar word jij blij van? Wat houd je tegen?! DOEN!!
Van plan om dit jaar op vakantie te gaan? Zoeken en boeken maar! Alleen al van de voorpret word je vrolijk
Verwen jezelf vandaag met een bezoekje aan de kapper, nagelstyliste of sauna
Neem iets extra lekkers bij de koffie of thee
LACHEN!!!!!!
Toch een dip? Maak een lijst van alle mooie, leuke, fijne dingen en mensen enz waar je dankbaar voor bent. Het leven is mooi!!
Knuffel extra vandaag ☺
Vrolijk iemand anders eens op met extra aandacht, ga op visite, bel gezellig even of geef een bloemetje, word je zelf ook weer vrolijk van
Ga lekker wandelen of hardlopen…. dit geeft positieve energie!
Koop een bloemetje voor jezelf, je huis fleurt er meteen van op
Kijk een leuke film of serie
Ga lekker op tijd naar bed en voor je het weet is het al dinsdag!!
Think positive!